Free audio download: Matt talks 9/11's unreported aftermath on the Rick & Donna Martinez Show
Listen to Matt on WPTF with Rick and Donna Martinez: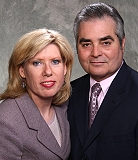 Matt's guest appearance on WPTF's Rick and Donna Martinez show yesterday kicked off the show's coverage of some of the more unheralded players in 9/11 and its global aftermath. Matt and Donna discussed the dirty deals our governments make with phantom carriers – in Iraq, Afghanistan, and closer to home. You can download the show as an iTunes-ready Mp3 here.