This month, Esquire magazine took up the story of Outlaws Inc., publishing a three-page expose of the phantom cargo trade in the Middle East. You can read the feature for free here by clicking on the layout image below and opening it on your desktop.
9th September 2011
Maxim magazine has made Outlaws Inc. its adventure of the month for August, with a three-page feature interview on some of the key locations featured in the book. From mafia-run Belgrade to the bootleggers' paradise of Kabul and war-torn Africa, the feature takes a long, hard look at just how the guns, drugs and gold…
8th September 2011
The newly launched UK edition of the Huffington Post today picked up on Outlaws Inc., featuring the book's whistle-blowing on the role of arms-traffickers in the Somali famine as its front-page story. The August 4th edition ran Matt's exclusive 1,000-word outtake 'Death dollars and déjà vu in Somalia: how the seamier side of the international airlift…
4th August 2011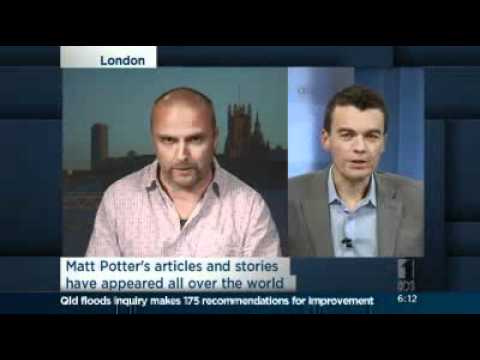 This morning I was a guest on Australia's no.1 breakfast show on ABC. During the link-up interview with host Mike Rowland (a still from the show, above), we talked about how the cut-throat economics of the global marketplace in everything from aid delivery to the food in our supermarkets feeds a shadow industry of mercenary…
2nd August 2011
Download and enjoy the full 25min clip of Matt's discussion of the anti-heroes of his book Outlaws Inc. with BBC Radio 5Live's Giles Dilnot! It's an M4a/iTunes compatible soundfile. Download here
4th June 2011
The champagne launch party for Outlaws Inc. went with a bang this week at London's Goldsboro Books, with nearly 200 attendees and word of mouth putting the book at No.2 on Amazon's true-crime bestseller list by the following morning. Attendees included many of the detectives, diplomats and monitors in the book itself, plus a couple…
4th June 2011
Listen to the first discussion of Outlaws Inc. on Wednesday 1 June's edition of Up All Night, BBC Radio 5Live's night-time show – also available on BBC iPlayer. Matt talked to Giles Dilnot about the adventures, investigative work and accidents that informed the book. Once it's vanished from iPlayer, I'll try to post a recording…
30th May 2011
The first virgin cases of Matt's non-fiction thriller/true crime book Outlaws Inc. will be broken open at a launch reception at London's Goldsboro Books. For a place on the guest list, more information, or interview opportunities and press material, email matt [at] mattpotterbooks [dot] com or h.guthrie [at] macmillan [dot] co [dot] uk.
9th April 2011
The first preview of Outlaws Inc. hit the stands this week courtesy of Libraries Journal. And here it is! Outlaws Inc.: Under the Radar and on the Black Market with the World's Most Dangerous Smugglers. Bloomsbury, dist. by Macmillan. Aug. 2011. 288p. ISBN 9781608195305. $25. When communism collapses, some Russian military men get together and…
9th April 2011